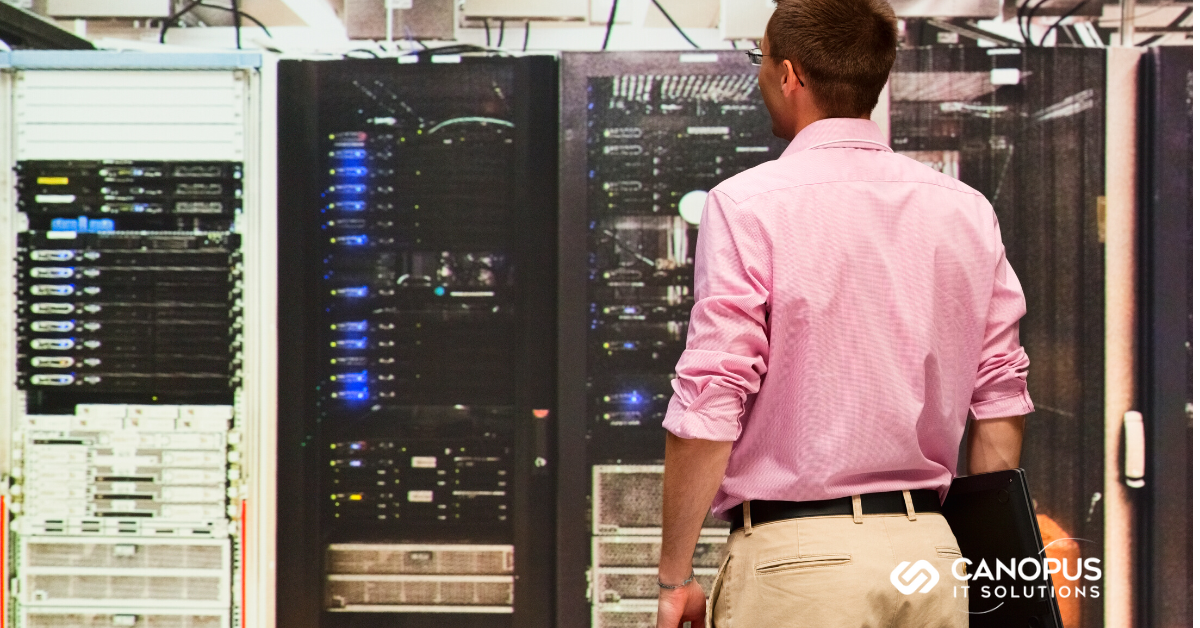 In recent years, colocation service is the most important part of the market studies. We need it for the critical situation of the corporate infrastructure. According to the research of Sandler, they thought more than 12 percent annual growth was reached with the help of global colocation. Because of the dependence of the colocation providers, maintenance of data centers is also a vital role. CANOPUS IT data center experts make a luxurious way for you with a new experience.
Meaning of data center
A data center secures your data. It gives physical and virtual service which is connected both internally and externally. The data center contains computers, networks, storage, and other IT equipment. It comes in different shapes such as a closet, dedicated room, warehouse, etc. These types of companies hire some people to maintain their data center.
Main elements of data center
Datacenter consists of computers, storage devices, and networking. Having a high-performance computer is needed for this. Especially, those have a lot of memory, and powerful processors, and are faster than most other computers. You can get network connectivity, processing, and local storage.
The most important part is networking and communication which helps to make a relationship network between servers. It has also routers, cables, and switches which are important to deliver the information.
On the other hand, data centers run on software such as MapReduce or Hadoop. As a result, we can see that people lost interest in physical servers. During the pandemic situation, most people depend on online servers. For this reason, online data center service is becoming more popular nowadays.
If you see the data center physically, it will have a security alarm, security doors, security staff, a fire alarm, and a protector from noise. Also need some equipment which is control power equipment, cooling system and other important equipment such as air, water pipes, fans, etc. Their total setup helps to run the data center properly.
Work of data center
Data centers ensure their customers that their network is going well and there is no threat to their data. It saves your company time and money. Datacenter improves your data for getting better output from the businesses. Overall, we can say that a data center is a combination of taking your data, monitoring, storing, and distributing it in a proper secure way. 
Benefits of data center
We can give our customers 24/7 service with our professionals. In the advanced world, demand for data and power is increasing. Data centers help in many ways. In Particular, they solve their customer's technological issues. Then the company gives total focus on their customer objectives without any tension. Some other benefits are:
Affordable service
CANOPUS IT offers its customers at an affordable rate. So, customers get service according to their plans and requirements. We are always available to solve your problem without any delay.
Improve electrical power
You can see the current US standards, the utility service legally delivers 191 to 220 volts though they promise to give 208 volts. But this problem can be solved if the data center company monitors it strictly. Most companies see their improvement in technological speed for the data center. But remember that one grid is necessary to connect one computer.
Reduce the cost of power
These days, sometimes companies can't afford the huge cost of power. But this significant energy needs to be maintained for the welfare of the company. So, we take a risk to give you the availability of power and reduce the cost.
Save your data
Most of the time, we can see cyber attacks on companies and it is a common problem in many companies. But the data center proves that your data is in safe hands. They give you reliable storage and delete your glitches. 
Process of data center maintenance
Any kind of maintenance is a critical process. But our CANOPUS IT experts know their work sincerely. They provide good facilities without any delay and bring your hardware online. Some processes of data center maintenance are given below:
Make proper setup
Arrange some important equipment which helps to protect software and control temperature. Control temperature plays a vital role in running the computer and server. So, we set a smart sensor for monitoring their work sincerely.
Hire trained staff
We hire trained staff because they work in critical situations. Trained employees to know their responsibilities. They show their best practice for running the system continuously and smoothly. 
Use huge data storage capacity computer
Nowadays, the cost of computer memory capacity is decreasing. So we gather a huge amount of data for giving the service properly. We can reduce our cost of storage by deleting and archiving data.
Prepare emergency need
We ensure our service can cope with any kind of disruption. Having a well-trained and capable staff prepares for any situation which has not occurred yet. We assure you that we can take proper steps to solve the problem timely and effectively.
Replace equipment timely
Our team members take the proper step timely to replace any equipment. For this reason, there is no interruption when any kind of problem comes. We always support our customers and trust us. Sometimes many systems need to be replaced at a certain time. Without replacement, the usefulness of equipment is decreasing day by day.
Clean the facilities
If proper cleaning is not done, data center hardware will shut down. So, we call a professional cleaning service as it's a part of our maintenance. Basically cleaning cloth and mopping the floor is not called data center cleaning. For keeping it clean, we decide to take the help of a professional cleaning service and how many times are needed in a year.
Conclusion
Data centers are necessary for crucial moments of the business. But it may face difficulties if the regular maintenance can't be taken care of. Our expertise ensures effective maintenance by becoming active 24/7 and 365 days a year.